Local Area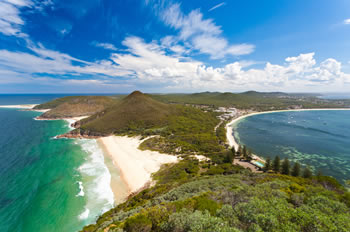 Port Stephens and its surrounds is the perfect location for a holiday with activities to suit the young and not so young. With pristine National Parks, golden beaches, spectacular bays and exciting activities.
Adjacent to Cookabarra restaurant is a Barramundi Farm and Hydroponic garden. Guided tours operate daily at 11am and 2pm. Feed the fish and see how our Australian made technology operates to produce over a thousand kilograms of barramundi a week!
See Tailor Made Fish Farms on Channel Sevens Sydney Weekender
Contact us for further information or to book a tour.
Local Activities, Amusement & Accommodation
Port Stephens, it's the perfect holiday destination - Just an easy 2 1/2 hours drive north of Sydney with a choice of 26 beautiful beaches, crystal clear water, gourmet restaurants, boutique shopping, whale & dolphin watching and much much more.... there's something for everyone in Port Stephens. p.s. You'll love it!
A few hundred metres down Marsh Rd you will find the Australian Shark & Ray Centre where you can hand feed sharks and rays.
Go-Karts-Go is located along Marsh Road also "where the karts are fast and the circuit is long".
Sand Dune Adventures
Best Hummer Tours on the Dunes, Quad Bike Tours & Aboriginal Culture Tours!
http://www.sandduneadventures.com.au/
Ph: +61(0)2 4033 8808
Open 7 days a week from 9am-4pm
2163 nelson bay rd,
Williamtown NSW, Australia 2318
Dolphin & Whale watching Cruises
Moonshadow-TBQ Cruises
Moonshadow Cruises is a family owned and operated business operating since 1981, offering a wide range of memorable cruising experiences around Port Stephens and Newcastle harbour.
With the largest and most luxurious vessels in the port, Moonshadow Cruises have 5 vessels in the fleet which can cater for a diverse range of clientele with many different cruising experiences on offer including:
Dolphin Watching, Whale Watching, Dinner Cruises, Broughton Island Cruises, Private Charters, Christmas Parties, Birthday Parties, Wedding Receptions, Team Building, Cruising Classrooms, Corporate Functions and much more.
Our cruises run to schedule, with dolphin watch cruises departing every day, and our vessels have the capacity to suit everybody without crowding. Our friendly and knowledgeable crew are dedicated to ensuring you have a comfortable and memorable cruising experience. Moonshadow Cruises are 'Ecotourism Accredited' and have a primary focus on ecological sustainability. Join us in exploring the magical world of Port Stephens & Newcastle Harbour, above and below the water through our Moonshadow Cruises Video
Website: www.moonshadow-tqc.com.au
Nelson Bay NSW, 2315
Ph: +61(0)2 49849388
Oakvale Farm & Fauna world where the kids can feed the baby farm animals.
Fighter World showcases Australian fighter and aircraft history.
Accommodation for Families or Large Groups
THE RETREAT PORT STEPHENS - Group accommodation specialists
The Retreat is set on 4 acres of bush land in a private and peaceful setting. Offering a great selection of accommodation to suit all group numbers with a total capacity of 125 guests.
Backing onto the largest living sand dune system in the Southern Hemisphere the Retreat truly is a property like no other in the area.
Brilliant onsite facilities are available for all guests to enjoy including covered BBQ areas, camp fires, games room, swimming pool, kids play ground, volleyball court and conference facilities.
www.theretreatportstephens.com.au
Groups Brochure booklet -http://issuu.com/theretreatportstephens/docs/d4746_groups_booklet_jan_2015?e=15208838/11009193
The Retreat Port Stephens
4302 Nelson Bay Rd
Anna Bay NSW 2316
Ph: (02) 4982 1244